Bulk Fuel Sales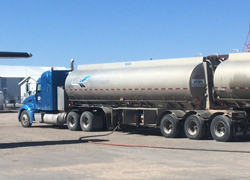 Exchange Petroleum offers a complete range of quality bulk petroleum products from 2 major Canadian refiners. We are able to supply across Canada. Products include:
Gas

Diesel

ULSD
CP43
Marked
Biodiesel

Aviation
We are highly experienced bulk fuel sales professionals who take the time to understand, meet and exceed the needs of our customers. Our volume purchasing power translates into highly competitive pricing for all our clients. This, along with our service excellence, makes us a leader in the industry and a valued asset to our customers in Manitoba, Saskatchewan, Alberta, British Columbia and Northwest Ontario.
In addition to providing superior service, we focus on maximizing efficiency and ensuring the highest safety standards.
All forms of petroleum products are available for purchase in bulk or in drums. We deliver year round via air, ground (including over winter roads), rail or barge. We can take care of all your logistics, or you can use your own carrier for transport. We also supply and install storage tanks.